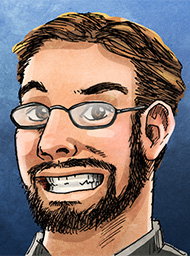 I'm not usually one to go on and on about myself, but you clicked on my "About" page, so I guess you asked for it?
I'm an artist, illustrator, animator, doodler, and daydreamer. I have a degree in Art+Design from the College of Design at NCSU, where I concentrated in Animation and Advanced Multimedia. I live in Washington, DC.
I've always loved telling stories with my art, be it a napkin doodle, an oil painting, or animated mobile app. I illustrated my first picture book at age 4, an epic story about Squarehead (he was a stick figure with a square head!) and have been drawing and creating almost constantly ever since.
I've worked on many projects throughout the years, including video games, advertisements, an animated virtual aquarium for a children's hospital, and more. I'm currently in production on an animated, interactive storybook app for iOS and Android, to be released in the winter of 2013-14.
When I'm not drawing pictures for fun and profit, I enjoy reading, photography, cooking cuisine from around the world, listening to every kind of music, and learning about science, history, and philosophy. I also love building tree houses, spending time with my son, and going on adventures with my wife, who has a PhD and is therefore never wrong.